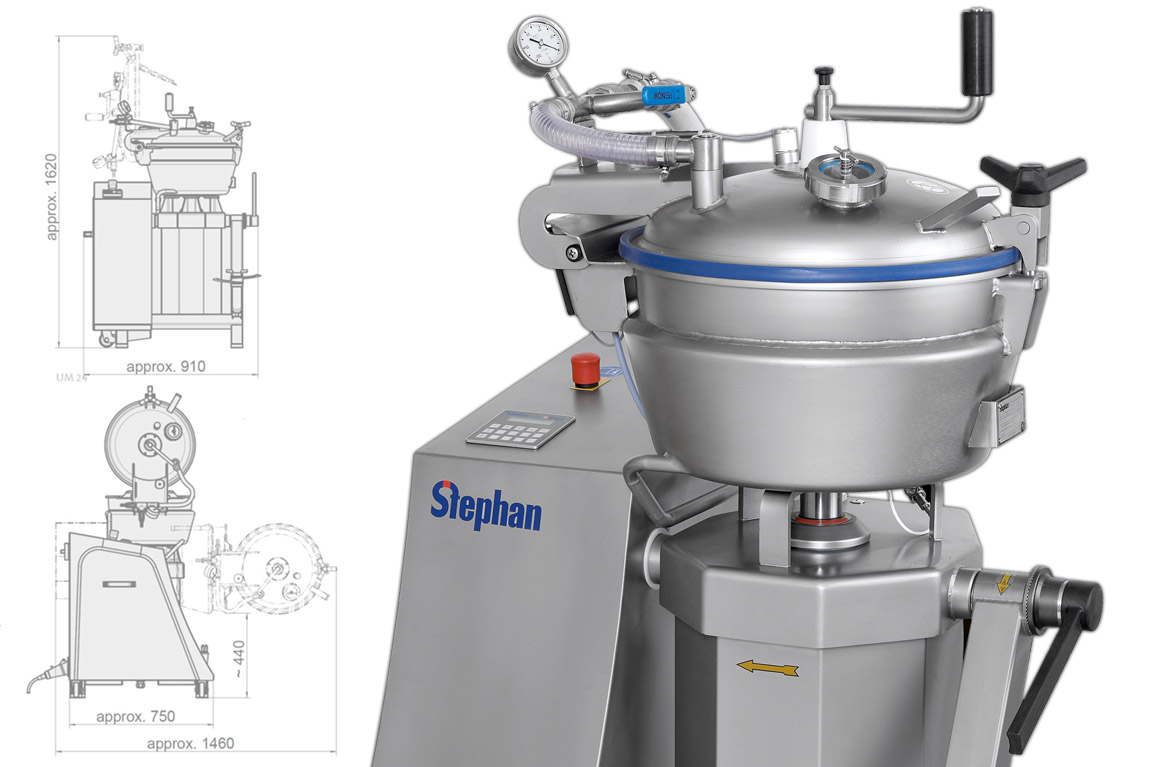 Stephan Food Service Equipment closes the gap between the 12 and 44 litre batch sizes with the new Stephan UM 24, topping off the selection of Universal Machines. In doing so, Stephan is meeting the requirements of customers around the world while adding even more benefits to the list of advantages for Stephan Universal Machines.
Traditional characteristics of Stephan Universal Machines include universal application, durability, short batch times and the ability to handle several process steps with a single machine. Development of the UM 24 placed special emphasis on user-friendliness as well as meeting current hygiene standards with ease. Changes are also visible on the outside, especially in the structure and layout of the machine.
Like all other Stephan Universal Machines, the UM 24 is extremely versatile when it comes to cutting, mixing, kneading or emulsifying etc. It is especially well suited for the production of bread and bakery products, meat and sausages, convenience food, confectionery and dairy product.
55 years of research, development and deployment of progressive technology has resulted in top-class machines with a global reputation throughout the food processing industry. In the international food industry, the name Stephan stands for premium Universal Machines with bowl sizes from 5 to 200 litres.
For cutting, mixing or emulsifying.
The Stephan UM 24 is employed if a single machine is required to execute reliably and quickly a wide range of processing functions, such as cutting, fine cutting, mixing, stirring, kneading, making purees and emulsifying and working under vacuum.
It is ideal for use in all fields of food processing, e.g. for the production of bread and bakery products, meat and sausages, convenience food, confectionery and dairy products.
The product contact parts of bowl and cover are made of 1.4301 or similar (V2A).
The surface is bead blasted. The support is made of stainless steel, too. The working tools are made of stainless steel and are consisting of a knife shaft and two knives as well as a mixing baffle with PFDV scraper for manual handling. A sight glass and a lamp are installed on the cover. The machine is equipped with a tilting device for easy product discharge.
The main motor – equipped with frequency converter - is controlled by soft touch panel 3011. The readout appears in 2 lines in an illuminated LCD display. The operated keys are illuminated as well. A timer is included.
The Stephan UM 24 is also available with bowl with double jacket for indirect cooling or heating of the bowl contents – see different identification numbers on 2nd page.
In this case there is existing a temperature indication and the possibility to use a temperature setpoint value for shutoff by soft touch keyboard.
Description of the machine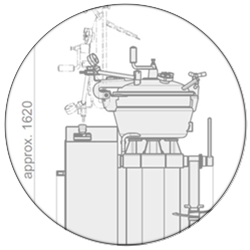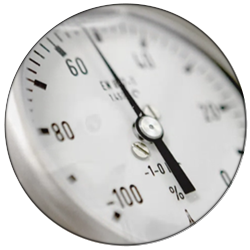 Stainless steel bowl on the main drive
Polyamid mixing arm for manual operating
Manually tilting for product discharging
Stainless steel for parts in contact with the product
Microbead surface
Stainless steel frame
Stainless steel working tools
Sight glass and lamp on the cover
Tilting device to ease the discharging of the product
Main drive with variable speed
Keyboard 3011 for the display of the product temperature and the setting of the working time, digital thermometer with temperature feeler PT100 2L mounted on the removable bowl
Double jacket
Hot and cold water
Vacuum unit with pump
Temperature feeler
Electrovalves
Options :
Three-phases-autotransformer for 200-208-220-230 V/50…60 Hz
Heating device - only for UM 24 with double jacket
Transportation facilities
Vacuum pump (water)
Vacuum unit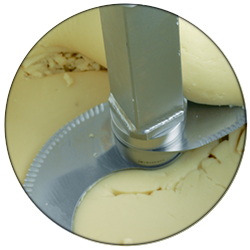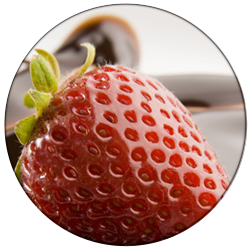 Inside chocolates
Solid mixing
Almond paste
Suspension
Chocolate
Emulsions
Ganache
Topping
Praline
Creams
Paste...